Anarchy Championship Wrestling to be a featured act at this year's Fun Fun Fun Fest in Austin, Texas on November 6th & 7th.
ACW is extremely excited to announce its participation in the Fun Fun Fun Fest being held at Waterloo Park in Austin, Texas. This year's festival also features: Weird Al Yankovic, Gwar, Bad Religion, Suicidal Tendencies, Mastodon, MGMT & a plethora of other awesome bands, comedians & anarchy.
From www.FunFunFunFest.com –
"In it's fifth year, Fun Fun Fun Fest is the most relaxed, laid back and (yet) progressive festival in music today. It is a true urban event in the middle of the Live Music Capitol of the World and most importantly it's a fest that we in the scene would want to go to, without all of the filler that tends to show up at the corporate music carnivals around the world these days. Point is, our fest promoters don't ride around in golf carts, they stage dive because they can't help it. Fun Fun Fun Fest: the fest before the fest...where you go to see what's about to happen as opposed to what's already been happening — booking the biggest fests biggest influences since 2005."
Anarchy Championship Wrestling has been given the opportunity to perform for its home town crowd & we have been given the freedom to deliver our brand of professional wrestling, Beautiful & talented women, the highest of the high flyers & the most intense, bloody & violent fights we can offer. Already signed to appear are ROH on HDnet star
Rachel Summerlyn
,
Lady Poison
,
Athena
, International star & current ACW Heavyweight Champion
Scot Summers
, current U-30 Champion
ACH
&
more of the top acts of Anarchy Championship Wrestling
.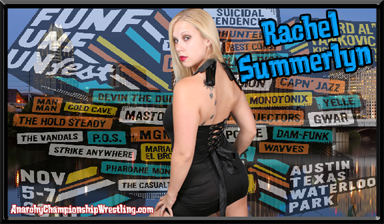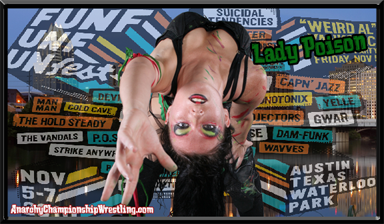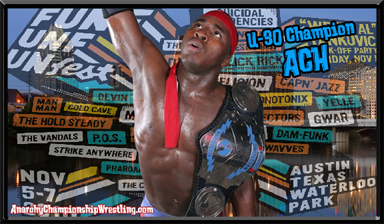 For more information, tickets, schedules & everything else in the way of fun please visit
www.FunFunFunFest.com
For all things Anarchy Championship Wrestling please visit
www.AnarchyChampionshipWrestling.com